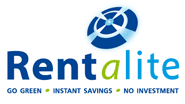 RevCon specializes in new and retrofit installations of the latest LED lighting technology featuring RentAlite products.

RevCon's roots as an electrical contractor for over 80 years has provided the metro area parking lot, parking garage and residential community parking facilities with installation and maintenance of interior and exterior conventional lighting systems. Our company owned high boom bucket vehicles strengthens our service technicians' ability to keep your lighting working throughout the year.

HID, HPS, Metal Halide, Neon, T-8 and now the newest in LED technology, RevCon is your source for photometric analysis, design and engineering, planning, purchase and installation. RevCon has the resources for you to take advantage of the grants, utility incentives, rebates and energy savings that conversion to LED lighting has to offer.

Beyond the life cycle benefits, the savings in terms of real dollars are enormous. Contact us for more information on this technology today.